Utility ATV Tire and Wheels
Top Tire and Wheels Products
Most Recent Utility ATV Tire & Wheels Reviews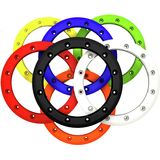 Hiper Beadlock Ring
JohnP

- Chicago
Do not match in color
"Purchased an 8" ring from this site and a 10" ring from Hiper directly because for some reason Hiper doesnt carry their 8" rings anymore. The 8" from MotoSport doesn't even come close to matching in color to the 10" from Hiper. The MotoSport ring is a much lighter shade of blue than the Hiper."

See all reviews for this product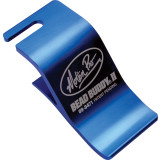 Motion Pro Bead Buddy II
ddd777

- phoenix, AZ
Wouldn work on Africa Twin Rear
"Went to change a tire on the back of a Honda Africa twin; tire size: 150/70-18 Device would not reach far enough down to hook on a spoke, maybe 1/4" short of sucess. Useless, was a waste of money. Interestingly enough Motion Pro website would not allow posting a less then 5 star review. Generally, I like their tools; this one is an exception."

See all reviews for this product
Tires and Wheels for Utility ATVs
It could be said that a 4x4 ATV is only as good as its tires. This style of quad functions like a tractor, plow, tow truck and all around utility vehicle. Without the proper tires to handle wet, muddy conditions, heavy transport or slippery slopes you might as well leave it in the farm garage.
Equipping your 4x4 with properly treaded tires ensures your ATV handles any job on the farm, while hunting or even just a day of fun on trails. MotoSport carries the chunkiest knobs to slice through the toughest terrain so don't overlook the 4-wheelers maximum potential. We have the industry's most respected tire brands so when it's time for new tires or an upgrade to address your specific needs, you'll find the exact tire for your ride right here.
Find additional all-terrain performance with an upgrade in wheels that work together with the tires to provide unmatched grip, control and reliability. Our selection of utility wheels offers a wide range of manufacturers that strengthen the drive system while cutting weight and including a stylish look at affordable prices. We also carry a significant selection of sport ATV tires if you also have the utility's racing cousin.
MotoSport also stocks tire-related tools and accessories for easy change, flat repair, wheel spacers to widen the stance and even chains. So, get your utility ATV back to work with a new set of tires or wheels and we'll get them to you quick with our fast shipping which is free on orders Over $79. If you need help deciding on tires or finding a specific product gives us a call 1-866-667-6288.
Utility ATV Brands at MotoSport