Most Recent Motorcycle Tank Protectors Reviews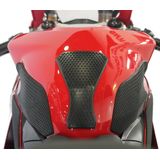 TechSpec Snake Skin Tank Grip Pads
John

- Nashua, NH
Better than I thought
"Hard to judge by all the on line reviews and videos, but for sure high quality and impressive once you finally get a set and install. Many compliments.... looks great! Make sure to template it and take your time with installation!"

See all reviews for this product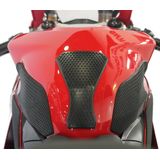 TechSpec Snake Skin Tank Grip Pads
Mellowcat

- MT
It's good.
"Don't be cheap. Spend the money on the good stuff, TechSpec shark skin. Works as promised, looks refined, has an OEM quality about it. Looks like the bike should have come with it from the factory. I'm happy i spent the money on this stuff."

See all reviews for this product
Motorcycle Tank Protectors
Tank pads or tank protectors are great accessories to add on to your bike not only for style but to keep your tank looking like new. After years of riding that brand new showroom shine on your motorcycle's tank could fade into a dull worn out look. Your knees and legs rubbing against the sides eventually creates a dull finish that even wax has a hard time keeping up with. Plus add all the pebbles and other debris that kicks up from the road and the zippers and buckles from all the gear you wear and your motorcycle tank doesn't stand a chance of staying pristine.
Motorcycle tank protectors provide the best way to protect your bike from the elements and you. Easy to put on, we carry an abundance of colors, styles and sizes to outfit your ride with the coolest look on the streets. We have protectors for down the middle of the tank and the sides or in sets combining both. If adding an adhesive is not your thing we also have tank covers like the one from Targa.
Motorcycle tank protectors give you grip and protect your bike's overall look and finish for years of carefree riding. If you ever decide to sell your bike - take them off and your bike looks brand new.
At MotoSport you'll be able to find the motorcycle tank protectors you need to keep your bike's finish looking new. Want help? Call our toll free line 1-866-677-7338 or chat with an expert.
Get the largest selection of motorcycle tank protectors only at MotoSport. We carry a 90-day return policy and available free 3-day express shipping.