Most Recent Dirt Bike Tires Reviews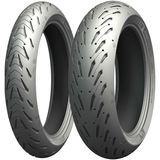 Michelin Road 5 Tire Combo
Stickytires

- Cloverdale, Ca
Great Tires for my R1000XR
"Great tires but tool quite a while to receive them! Need to find a source that can ship faster!"

See all reviews for this product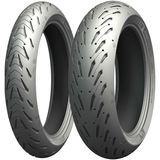 Michelin Road 5 Tire Combo
MsChelle

- Seattle, WA
Amazing tires!
"I bought these last spring for my EBR 1190 SX. Living on the Washington Coast, having great wet traction is important.So far I have put 2,600 miles on them, and they show very little wear. I really like the smooth transitions , side to side. I am not at all afraid of leaning over my bike, and have found these very confidence inspiring doing spirited street riding. In the wet they are very solid. I've done stoppies on roads so wet there were sheets of water. I have done a combination of Interstate, twisty roads, and just around town riding. I've been very pleased at how well the rear hooks up with a high horsepower and torque V twin. I would buy these again in a heart beat."

See all reviews for this product
Dirt Bike Tires at MotoSport
Tires affect just about every aspect to dirt bike riding. In fact, it's not uncommon for a rider to change their tires between Motos or adjust the pressure, even by half a pound. The dirt bike tire is the lifeline between the bike and the ground and often means the difference between washing out on a muddy turn or speeding past a competitor. Tires impact comfort, performance and the overall feel of the bike. Replacing dirt bike tires is a routine maintenance requirement but grabbing a new set off the shelf is far from the best approach.
MotoSport understands the need for particular dirt bike tires which address different terrain and riding styles. That's why we carry so many options. Choose from front and rear tires as well as combos and Dual-Sport DOT tires. We have every size imaginable from the most trusted brands in dirt bike tires:
Artrax
Bridgestone
Cheng Shin
Dunlop
Goldentyre
IRC
Maxxis
Michelin
Pirelli
Shinko
In addition to our wide selection of dirt bike tires, we carry wheels, inner tubes, flat repair kits and all the tools needed to fix or replace damaged or worn tires. Time for a new set? That's really up to you. Some riders try and get the most out of their tires while others like to get a fresh pair once the lugs show any sign of rounding. Whatever keeps you rolling we have the dirt bike tires you need to stay upright.
MotoSport stocks an extensive catalog of dirt bike tires. What else would you expect from the leader in parts and supplies? We feature 25 tire combos, 55 front tires, 64 rear tires and 33 Dual-Sport DOT tires. We make it easy for you to buy the correct front and rear tires for your bike in the right size. If you need help call our toll free line 1-888-676-8853 or check out our Dirt Bike Tire Buying Guide.
MotoSport offers fast, free shipping on orders Over $79.
Dirt Bike Brands at MotoSport