Most Recent Dirt Bike Sprockets Reviews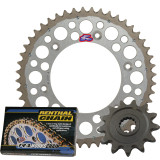 Renthal Twin Ring Sprocket Kit
Matt

- Clymer pa
Looks nice
"So far so good we will see how it holds up"

See all reviews for this product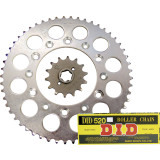 JT Steel Chain And Sprocket Kit
Paul 247

- Hartford CT
Super durable and long lasting!
"Only sprocket I put on our race bikes and paired to a great chain I've sometimes gotten a year or two before needing to be replaced again."

See all reviews for this product
Dirt Bike Sprockets
A major component of the drive, dirt bike sprockets hold the chain and together propel your bike. In many respects, the dirt bike sprockets go hand-in-hand with the chain as you typically replace both regardless of the wear life left on one or the other. Sometimes though you need a replacement sprocket but many riders looking for more top end or bottom end can replace an existing sprocket with one that has more or less teeth for the desired outcome.
Changing Dirt Bike Sprockets
If you want faster acceleration (more bottom end) use a smaller front sprocket or larger rear sprocket which creates a lower gearing ratio. But understand for every 1 tooth you change on the front, it is the equivalent to changing 3-4 teeth on the rear so don't go crazy. Conversely, for faster top speed (more top end) use a larger front sprocket or smaller rear sprocket and apply the same tooth ratio as above. This, of course, creates a higher gearing ratio.
Best Dirt Bike Sprockets
We carry a wide range of dirt bike sprockets from the industry's most trusted brands. Plus you can buy individual front sprockets, rear sprockets, or save some money and a bit of hassle buy purchasing a chain and sprocket kit that gives you everything needed to start fresh. Check out the following popular brands that make dirt bike sprockets:
...and many more!
Dirt Bike Sprockets at MotoSport
Shop all dirt bike sprockets at MotoSport! Use the drop down menu on the individual product page and input the make, model and year of your dirt bike to determine fitment. Remember, we always recommend changing the sprockets and chain together so check out the combos we have put together. If you need help or have questions give us a call at 1-888-676-8853 and talk to a gearhead who can provide the information you need to make an informed choice. Also, read The Ultimate Dirt Bike Sprocket & Gearing Guide for more information on gearing and drive set-up.
MotoSport delivers all dirt bike sprockets fast and orders more than $79 ship free!