Most Recent Dirt Bike Exhaust Reviews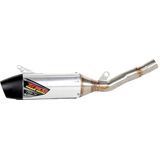 Dr. D NS-4 Slip-On Exhaust
Yzinger

- Leadville
Good for the price
"Decent pipe, the end that goes on the header was bent and not round though. Made it very difficult to install, but once I got it on there it sounded good."

See all reviews for this product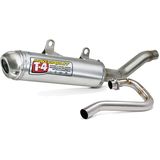 Pro Circuit T-4 Complete Exhaust System
Hawkfish

- Evans, Georgia
Worth Every Penny
"Bought this for my son's Kawasaki KLX140L. He is a new rider (5 months) but has been hard at it. He loves it. He wanted to upgrade for sound and performance of his stock bike. I made him do the research and he chose the Pro Circuit T4. Minor issue on installation, had to grind down the back mount. It was too thick and bolt would not catch threads. No biggie with an angle grinder, I think they should include a longer bolt as a replacement. Nonetheless, bike is quicker and sounds great!"

See all reviews for this product
Dirt Bike Exhaust
Let's face it - you were ready to replace the dirt bike exhaust the minute you brought it home. It's one of the most common upgrades and if you're looking for the best full system exhaust or a slip-on for your dirt bike you've found the right place. MotoSport stocks a surplus of 2-stroke and 4-stroke exhaust systems for your dirt bike. You'll find only the most respected industry brands that offer budget friendly upgrades to what the pros ride.
Dirt Bike Exhaust Upgrade
You get multiple benefits when upgrading your dirt bike's exhaust. First, you'll feel the increase in power. That's thanks to the horsepower. Or is it because it's lighter than stock? Because that's the second benefit. Finally, that sound. It's a sight and sound of beauty with the only difficulty to upgrading your dirt bike's exhaust is which one to choose. Don't worry, we're here to help. MotoSport gearheads know exhaust systems inside and out and we can recommend the best slip-on or full exhaust system based on the make and model of your dirt bike and where you ride. We also stock the exhaust accessories needed to keep your new system working like packing, pipe guards and plugs.
2-Stroke Dirt Bike Exhaust | 4-Stroke Dirt Bike Exhaust
Whether you ride a 2-stroke or 4-stroke we have the dirt bike exhaust for your ride. You can add a a slip-on to your 4-stroke, a silencer for your 2-stroke or upgrade the entire exhaust system. Whatever route you choose, count on MotoSport to carry the best dirt bike exhaust systems from the industry's most respected brands including:
We know upgrading the dirt bike exhaust doesn't come easy. You have lots of question and want to ensure you install the right exhaust on your dirt bike. We have several articles you can check out including Dirt Bike Exhaust - Does an Upgrade Help?, 2-Stroke Dirt Bike Exhaust: Upgrade Pipe, Silencer or Both? and Exhaust Upgrade - What You Need to Know that can help answer some questions and point you in the right direction to get the most out of your dirt bike exhaust. Or, give one of our gearheads a call at 1-888-676-8853 who can offer personal experience on the exhaust systems used on their own dirt bikes. We never want you to miss a ride so any dirt bike exhaust related question you have, we can answer it.
MotoSport ships all dirt bike exhaust systems fast and orders more than $79 qualify for free shipping.