Top Tire and Wheels Products
Most Recent ATV Tire & Wheels Reviews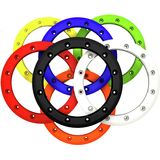 Hiper Beadlock Ring
JohnP

- Chicago
Do not match in color
"Purchased an 8" ring from this site and a 10" ring from Hiper directly because for some reason Hiper doesnt carry their 8" rings anymore. The 8" from MotoSport doesn't even come close to matching in color to the 10" from Hiper. The MotoSport ring is a much lighter shade of blue than the Hiper."

See all reviews for this product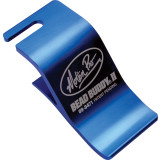 Motion Pro Bead Buddy II
ddd777

- phoenix, AZ
Wouldn work on Africa Twin Rear
"Went to change a tire on the back of a Honda Africa twin; tire size: 150/70-18 Device would not reach far enough down to hook on a spoke, maybe 1/4" short of sucess. Useless, was a waste of money. Interestingly enough Motion Pro website would not allow posting a less then 5 star review. Generally, I like their tools; this one is an exception."

See all reviews for this product
ATV Wheels and Tires
Don't underestimate the importance of installing the correct tires and wheels on your quad. Different terrain requires different tread and you should never cut corners when it comes to choosing wheels or you'll be the one cut! MotoSport carries an extensive selection of tires and wheels for your ATV that help you tackle the gnarliest of terrain keeping you upright on the trails or leaving any competitors in your roost on the track. Choose from brands like Artrax, Kenda, Moose and QuadBoss, among others, that feature chunky tread to the paddle tire for dune riding. Slip those on a set of Hiper, Boss, ITP or DWT wheels for solid performance anywhere you spend the day quad riding. Looking for grit over speed? Utility ATVs require a completely different type of tire for farm work or an afternoon hunt so look no further than MotoSport for all your ATV and Utility ATV Needs.
Additionally, we carry the "extras" like inner tubes, wheel bearings and all the necessary tools to repair a flat or change a tire quickly so your day on the track or trail doesn't end early. Find the best selection of ATV tires and wheels for the lowest price at MotoSport. We stock all the accessories needed to keep moving and if you need help deciding on the right wheels and tires for your quad please give us a call on our toll free line 1-866-667-6288
Sport ATV Brands at MotoSport