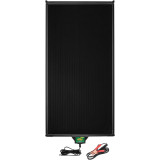 Battery Tender Solar Charger
The Dirty

- Knoxville, TN
Good Choice for limited power options.
"I have been skeptical of solar chargers for a long time now. My good experiences with Battery Tender as a brand made the choice for me. I recently moved to an apartment for a job, no power options at all for keeping vehicles on a tender. I recently purchased this panel because I had to replace the OEM battery in my bike that has been holding strong for four years. I kept all my vehicles on tenders before I moved. So far the panel works as advertised, it topped off my bike in one afternoon of operation. I hesitate for 5 stars because I do not know how it will work long term. Bear in mind the 15W panel is rather large as well. It's 14" by 40" inches. Fits well in my pickup's windshield where I can lock it inside for a bit of security. If it keeps working well I plan on purchasing another panel to keep my truck charged as well."

See all reviews for this product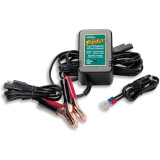 Battery Tender Jr. Battery Charger
Mafia3140

- Marksville, La.
Great Device
"Using it as I write this review. Great device, works as stated. Connect it and forget about it. Easy Easy Easy."

See all reviews for this product
Battery Tender
You can re-charge a dead battery or prevent it form ever dying in the first place with a Battery Tender. The name goes hand-in-hand as Battery Tender by Deltran indeed makes battery tenders for motorcycles, dirt bikes, ATVs and even cars.
What Is a Battery Tender?
A battery tender prevents the battery from losing its charge, which can affect the overall life of the battery. A battery tender "tends" to the battery by using a trickle charge that continuously charges the battery preventing a significant loss in charging power. In many respects, a battery tender works much like how a vehicle in operation recharges the battery.
A battery tender not only can fully charge a battery on low life, but once charged the tender switches to a float / maintenance voltage after fully charging the battery and maintains the charge. Therefore, when you're ready to go so is your machine.
Battery Tender for Powersports
Whether you ride a dirt bike, motorcycle, ATV or UTV, quite often our two-wheeled and 4-wheeled adventures of fun do not get the regular use needed to maintain a full charge on the battery. Eventually, the charge in a battery winds down and no longer carries enough charge to turn the engine over. Those who ride seasonally or even just once a month can benefit from using a battery tender.
And for motorcyclists, today's modern security systems as well as all the available communication accessories all work to quickly drain the battery of applicable charge so even occasional riders might run into trouble unless they attach a battery tender to their motorcycles between breaks in riding.
Additionally, if left unattended for long periods and constantly recharged, you can impact the battery life. A Battery Tender offers the best solution for preventing premature wear on the battery and a no-start.
Battery Tenders at MotoSport
Battery Tender has manufactured a number of battery tenders from the portable kind to waterproof tenders. Additionally, the company also manufactures batteries for a variety of off-road applications and even battery chargers for cell phones, cameras and other devices requiring a USB.
If you want more information about Battery Tenders and their products, gives one of our gearheads a call who can answer any questions and recommend the best battery tender for your needs. MotoSport delivers all battery tenders fast and orders more than $79 ship free.